Attendance Matters
As a parent/carer you want the best for your children. Your attitude has a key influence on your child's school attendance and parents/carers can do much to encourage even reluctant pupils to attend school every day.
"A CHILD WHO MISSES A DAY OF SCHOOL PER WEEK
MISSES AN EQUIVALENT OF TWO YEARS OF THEIR SCHOOL LIFE"
There is a clear link between absence and attainment. As levels of absence increase, the proportion of pupils reaching their expected levels of attainment decreases.
Attending school on a regular basis is the key to your child doing well at school and will set them up with good habits for later life and the working world.
It will also give your child the opportunity to:
· Make lots of friends and feel included and that they belong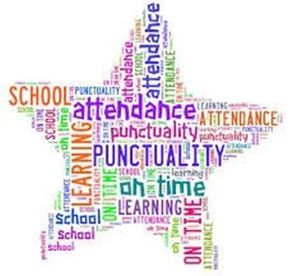 · Learn new things and develop new skills, be successful
· Increase their confidence and self-esteem
· Enjoy their education
ALL ABSENCE LEADS TO GAPS IN YOUR CHILD'S LEARNING this in turn can:
· Mean they fall behind in their work
· Affect their motivation and their enjoyment of learning
· Lead to poor behaviour
· Affect their confidence in school and could affect their friendships
· Mean they miss out on the social life of school and the extra-curricular experiences and opportunities
Poor attendance and punctuality can give the message to your child that school is un-important. Good attendance and punctuality are a great life-skill, for interviews, for working, for everything. Encouraging your children to attend school every day, on time, places value on school and education and increases your child's life chances.
· Everyday attenders make better progress both socially and academically.
· Everyday attenders find school routines and school work easier to cope with.
· Everyday attenders find learning more satisfying and more fun.
· Everyday attenders have an easier transfer to their next school.
90% ATTENDANCE - THAT'S GOOD ISN'T IT?
It may sound pretty good if your child has an attendance rate of 90%. In fact it means that your child is actually absent for the equivalent of one half day every week. Over a year this would be equal to missing 4 weeks of school and over 5 years your child will have missed the equivalent to half a year's schooling.
If you start good habits now, these good habits can be maintained throughout your child's school life and into their working life.
Is My Child Too Ill For School?
It can be tricky deciding whether or not to keep your child off school, nursery or playgroup when they're unwell.
There are government guidelines for schools and nurseries about managing specific infectious diseases at GOV.UK. These say when children should be kept off school and when they shouldn't.
If you do keep your child at home, it's important to phone the school or nursery on the first day. Let them know that your child won't be in and give them the reason.
If your child is well enough to go to school but has an infection that could be passed on, such as a cold sore or head lice, let their teacher know.
For more information, please visit the NHS website here: https://www.nhs.uk/live-well/is-my-child-too-ill-for-school/
The Department For Education has also shared this letter on mild illness and attendance at school: https://www.gov.uk/government/publications/letter-to-school-leaders-on-mild-illness-and-school-attendance/letter-to-school-leaders-on-mild-illness-and-school-attendance